CORRECTENGLISH® IS THE MOST ADVANCED AI-POWERED WRITING ASSISTANT
The CorrectEnglish® keyboard tool and browser extension help you perfect emails, work presentations, resumes, and cover letters. Create more professional documents with instant writing feedback.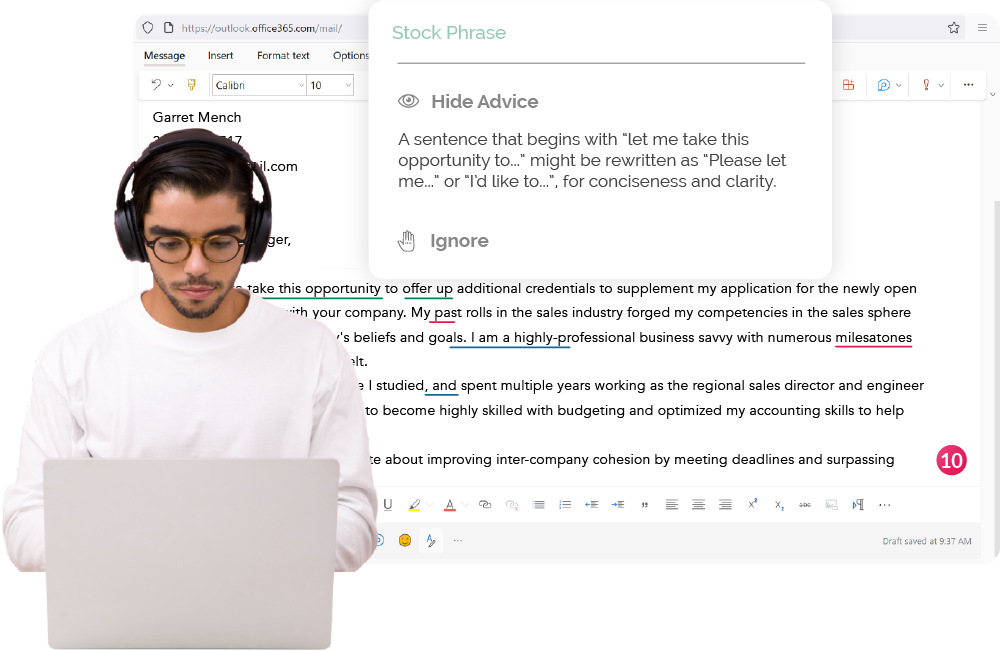 Everyone Can Write With Confidence
Through Android and iOS, as well as Chrome, Firefox, Safari, and Edge browsers, CorrectEnglish® finds writing errors and makes suggestions for improvement.
Approach every message with confidence and professionalism. CorrectEnglish® simplifies error correction by checking for contextual errors, spelling errors, and word substitutions using advanced AI that accounts for every grammar rule.
Type your emails, cover letters, work presentations, and more to get instant, detailed feedback in real time while you work on your iOS or Android device or where impressions matter most in your web browser. It's free to try!
Make Your Professional Writing Shine
Great writing is essential throughout your career and in other aspects of life. Beyond proofreading, CorrectEnglish® teaches you to avoid mistakes with explanations about necessary corrections. We can help you continuously improve your writing everywhere you go.
Flawless Writing Everywhere
Write well wherever you go with feedback on your phone, tablet, or within your browser.
WORD SUGGESTIONS
Give everything you write an extra edge with sophisticated vocabulary.
Instant Writing Feedback
Get real-time feedback as you type to create polished and professional writing.
WRITING GUIDES
Our Writer's Guides are your key to confidently formatting your work and creating a polished, well-structured piece.
0
Patented AI
That Accounts For Every Grammar Rule
0
Languages...
and more to come!
Choose Your Subscription:
Included in Your Plan:
• Best-in-Class Writing Advice
• ESL Writing Support
• Advanced Word Suggestion Tech
Included in Your Plan:
Everything in Free, plus:
• Plagiarism Scanning
• Powerful Research Tools
Included in Your Plan:
Everything in Free + Professional, plus:
• A One-Time payment at a greatly reduced cost!
Includes:
Free Forever
Professional


$24 Per Month

Pro Saver


$80 Per Year

Unlimited word count for grammar checks
Up to 250 words
Web-based rich-text editor with formatting tools
Advanced writing rules and feedback for mechanics, grammar, and language usage
Multi-lingual feedback in seven languages
Style templates (e.g., MLA, APA,CMS,CBE)
Cite.ai to check originality of your document
Real-time collaboration and sharing tools
Deep AI writing analysis and stats
Lexipedia®, for building powerful vocabulary
iseek.ai®, advanced research tool
Subject and format-specific Writing Guides (e.g., general writing, business, academic, job search, technical)
Save Money with A Yearly Subscription
Get CorrectEnglish
Get CorrectEnglish
Get CorrectEnglish